Recently I discovered the magical world of small and very cozy animals Sumikko Gurashi. These are rounded cute creatures that make up a small society of lovers of cozy corners (loo if they have hidden in your apartment) These creatures are extremely quiet and delicate, therefore, apparently, they have not yet been discovered.
Toys and characters are usually funny or neutral, but Sumikko carries a deeper meaning. These are creatures living in a corner, filled up, closed and shy. Each of them, like all real people, has its own injury and problem.Thats why they charm our hearts. What do you think?))
Japanese tend to quietly suffer in the captivity of the rules of decency, to apologize a lot, to feel embarrassed. It is these emotions that Sumikko Gurashi characters convey. At the same time, despite the reflections, they continue to live their lives – they are engaged in hobbies, work in the garden, communicate with each other. Like real people 🙂
Sumikko Gurashi characters come from cartoon of San X studio. They have their own song. There are a lot of accessories, stationery, toys , collectible miniatures and soft figures of different sizes related to Sumikoo Gurashi Cartoon. They also have houses and various household items, like Silvanians.
Let's discover a whole world of Sumikko Gurashi characters and talk about every.
Shirokuma – Polar Bear
Shy bear, often chilly. Ran away from the North, unable to endure the cold anymore. Calms down when drinking warm tea in the corner.
Special skills: he likes to draw.
Character: shy
Hobbies: drinking tea
Fight against cold: 3 levels (see figure).
Penguin – Penguin
I'm not sure that he is a penguin, as he recalls that he had some kind of plate on his head (in fact, he is a water kappa).
What loves: cucumbers
Hobbies: reading, listening to music
Enemy: A mechanical arm that often grabs a penguin.

Tonkatsu – Tonkatsu
Remain of pork chop. It consists of 99% fat and only 1% of meat, which is why it was left uneaten.
Sometimes gloomy, remembering his psychological trauma. Often "slows down".
Jewelry collection:
sauce for tonkatsu, mustard, paper bag.
Screenshot 2017-06-30 at 11.11.23
Neko – cat
Shy cat. Timid, often giving way to a corner. Calms down when hiding under something. He likes to sharpen claws in the corner.
Character: modest. He worries about his weight, dreams of being a bold, slim, impudent cat.
What loves: canned cat food, fish, cat grass.
Tokage – dinosaur
In fact, this is the last surviving dinosaur. Pretending to be a lizard, so as not to be caught. He is a friend with a snail, which is also a feigned creature.
What he likes: fish
Special skills: swims well.
Furoshiki
This is the property of Polar Bear. Used when cold. In addition, you can use it to take a place in a corner, use it as a pillow, blanket, blanket for a picnic, carry things in it. The best friend with Polar Bear.
Zasso – weed
Positive sociable weed that wants to get into the bouquet . Its legs are roots, water flows through them, so the weed carries out photosynthesis. Cat watering it. Sometimes sleepy, Neko cat bites the weed, thinking that it is his favorite cat's grass.
Ebifurai no Shippo – a tail from a fried shrimp
The tail of the shrimp, deep-fried, hard, so it was left just like the rest tonkatsu.
Jewelry collection:
A bag of paper, cherry tomatoes, tartar sauce.
He communicates with Tonkatsu, as they are both fried, so they are friends.
Tapioka – Tapioca
Tapioca balls that did not fall into a straw with a cocktail of milk tea. They are soft and elastic. Fond of graffiti, well able to imitate other objects. There is also black tapioca – more sophisticated than usual.
Hokori – dust
It is dust that accumulates in the corners. Separately, tiny specks of dust form a tangle when they come together. Fly out of the corner, infectious laugh. Weaken in the water … Calm down in a garbage bag.
Suzume – Sparrow
Flies and walks, keenly interested in Tonkatsu. Can peck him, trying to open Furoshiki and look inside.
Nisetsumuri – fake snail
In fact, it is a slug, which depicts a snail, putting on the shell. For this reason, he constantly apologizes.
It moves freely, not only in the corners, but also along the walls and ceiling.
In addition to the snail shell, it can put on objects: a backpack, wash, house, Tapioca or Furosiki. It is a friend of the Lizard.
Obake – ghost
He does not want to frighten anyone, so he lives in the attic.
Loves all the fun. Since it is very terrible with the mouth open, it keeps the mouth closed.
Loves to do the cleaning. If the attic is clean, then Obaka probably lives there.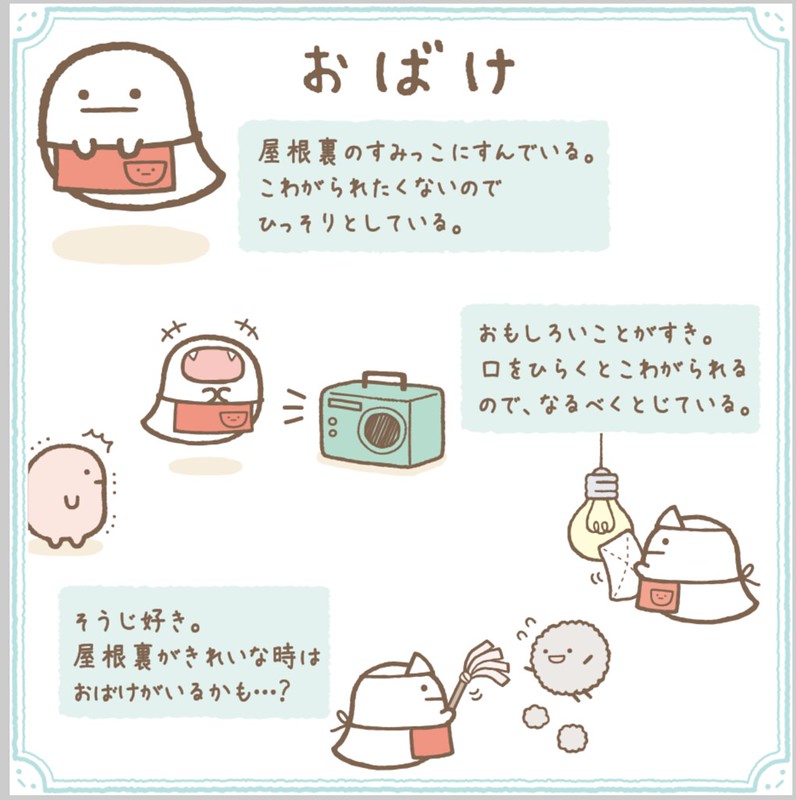 Yama – mountain
A little mountain that envies Fuji-san. Appears in the hot springs, depicting Mount Fuji – for example, looks out from behind the fence, standing on the ladder on the other side. Climbing into hot water, depicts Fuji, colored sunset rays. Weed and tapioca can climb it.
Screenshot 2017-06-30 at 12.12.37
Mogura – Mole
He used to live underground, but he became interested in the noise on the surface and got out. I found red shoes, since it has been walking in them and imitating those creatures that I met first. Eats cucumbers with a penguin and sharpens claws with Neko cat.