Today we had dinner with a wonderful young Japan guy from Okinawa. The guy's name is Yu, he travels around Europe and takes pictures of everything he eats. We started to talk and of course, it all came down to Miyazaki, we have no other way.
You know, I think that Miyazaki cartoons are very scary,- said Yu. "Well, "Kiki" or "Laputa" are very simple stories, but "Totoro" is really scary.
Well, firstly, both sisters are named May. The name of little one is May – the fifth month in English, and the older – Satsuki, the fifth month in Japanese. And the worst thing you know what? The last 10 minutes of the movie girls do not cast a shadow. You know, there are very accurate people in studio Miyazaki , they draw a shadow even from one leaf … They could not forget.
Long before shooting of the film, there was a terrible story in location that depicted in cartoon- a maniac killed children in the forest. Remember when Grandma Satsuki found a sandal in the pond? Mey died, we can assume it! And Satsuki was looking for her, and she died as well. The tunnel in the tree through which Satsuki runs – well, this is the same, the light at the end of the tunnel, do you also saw that?

Then this bus .. when Satsuki gets into the bus, the inscription on his forehead changes. Everything happens very quickly there, and in the end you get destination: May, and before that, the destination was a graveyard. If you stop the frame at this point, you will see.

And yet, when Mei is found, she sits in such a holy place where stone Buddhas stand. Religious Japanese believe that when a human dies, he becomes Buddha. And there must be seven Buddhas in the holy place. And there are six, and May sits. She's already Buddah, you see.

Well, and then .. the cartoon is called "My Neighbor Totoro". Not just Totoro – troll, or something like that. I think it means "My neighbor is death."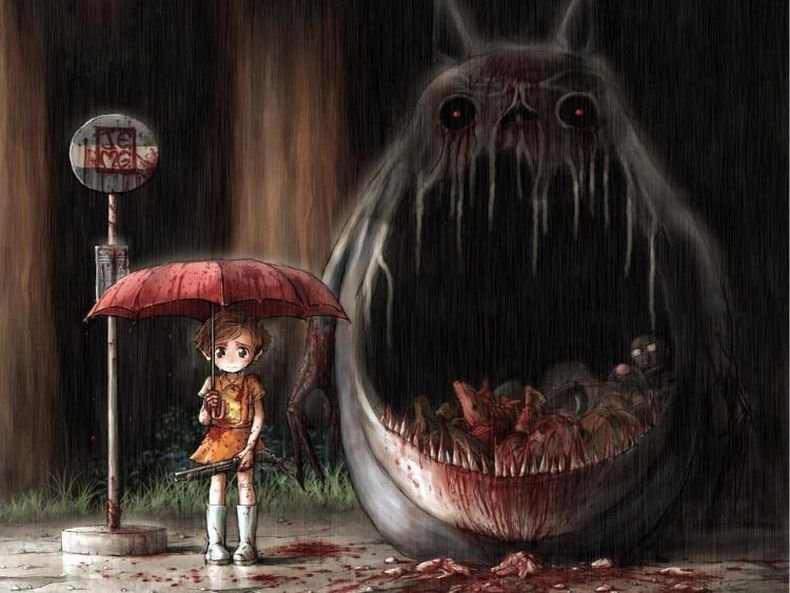 I was very surprised to hear such interpretation of my favorite movie and answered Yu:
"This cartoon is a children's fairy tale – no need to look for any hidden meaning. You can of course be confused and to teach that everyone has died at all (both girls and mother), but this is not so.
With shadows, everything is OK, you can review the end and see this.
As for the names of the girls, everything is correct, only the reason is different, not in the "death", but the fact that initially only one girl was in the idea, but when they started to make the cartoon "My Neighbor Totoro" they decided to make two sisters instead of one girl, respectively, the name was divided.
On the bus there is no inscription about the cemetery. When Satsuki gets into the bus there it is written May, then changes to a couple of local names, and when May is found, the inscription changes to the name of the hospital where their mother stayed.
There is no information about the maniac anywhere, it is speculation) They move because the mother is placed in the best hospital where they treat tuberculosis, respectively, the family has to move to be closer. It's a bit autobiographical, because Miyazaki's mother had tuberculosis."
How do you think could "My neighbor Totoro" have some hidden ideas?
P.S. If you like Totoro, check this welcome offer for our readers: amazing Totoro pen with FREE shipping just for 0.99$. Don't miss it. Stock is limited!